Phoenix's own Eva Williamson and Lisa Singletary recognized as Women of Excellence in Metalforming & Fabricating
11.19.2020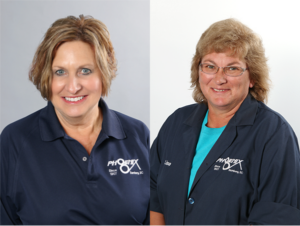 Phoenix Specialty Mfg. Co. is proud to announce that Eva Williamson and Lisa Singletary were both recognized as Women of Excellence in Metalforming & Fabricating. This award is presented by PMA's MetalForming Magazine, in conjunction with Women in Manufacturing.
Eva Williamson, Shipping & Finished Goods Manager
Women of Excellence in Metalforming & Fabricating Award Recipient

Eva has been with Phoenix Specialty Mfg. Co. for over 41 years. She has held several different positions within Phoenix during her time here, including Office Manager and now Shipping & Finished Goods Manager. Her dedication to the company has provided her the opportunity to hold several leadership roles during her tenure.
Eva's dedication to Phoenix, and the metal forming industry, is shown in her years of service (41 years). She is extremely passionate about her job, as well as the company, and has a leadership style that is unmatched. After 34 years as the Office Manager, she was asked to step into the Shipping/Finished Goods Manager position. As always, Eva was a team player and was willing to step in where she was needed. She has since created a great cross training matrix in the shipping department, helping to develop a cross functional team. One of her most important roles at Phoenix is serving as the "cheerleader" for the management team. Eva has always represented Phoenix with a smile. She has attended 100+ trade shows and planned countless events for the company over her 41 years. She is extremely detail oriented in every task given to her.
Eva was set to retire from Phoenix this past March, but because of her dedication and team player mentality she decided to prolong her retirement to stay with the company. Eva's passion, dedication and leadership has made her a vital asset to team Phoenix over the years.
When asked why she would recommend a career in manufacturing to women, Eva's response was "A career in usually male-dominated manufacturing is a win-win for women and the companies that hire them. Women bring their hearts to work and wear them on their sleeves every day. Women are more driven, creative, compassionate, effective, and organized communicators. They value a company's best asset, it's employees, and ensure their success. Women work hard to be supportive and adaptable. They get things done!"
Lisa Singletary, Purchasing & Materials Manager
Honorable Mention
Lisa was nominated for this award by one of her co-workers, who described her as a true leader. She is continuously improving both of her departments simultaneously. She is someone who leads by example and works extremely hard to keep employee training and access to information current and available. Lisa is constantly seeking to find easier, but equally functional processes for employees to follow, without risking a loss of quality control.
Lisa goes out of her way to make sure that her employees know she appreciates them and their efforts. She is also the kind of leader who will jump in wherever she is needed. No job is too small for her, whether it be throwing on a construction helmet and climbing a ladder to put up material coils, sweeping up debris in the warehouse, or creating spreadsheets in Excel to help her employees stay organized.
"I have never worked with a manager, especially a female, that I respect and appreciate this much!" – Tracey Brightwell, Purchasing Agent.
Lisa's dedication to the company and hard-working attitude play a key role in Phoenix's success as a growing company. Over the years, she has been a "go-to" person when issues arise, and she constantly has the company's best interest in mind when making material and purchasing decisions.
"We would like to congratulate Eva and Lisa on their PMA Women of Excellence in Metalforming & Fabricating award and recognition. Eva and Lisa have contributed significantly to Phoenix's success over the past decades – and on behalf of everyone, thank you both for being a part of the Phoenix Team! We are proud that women make up more than 40% of the workforce here at Phoenix, and we believe that Eva and Lisa are an excellent representation of the many great women in our company. A special thank you to all of the hardworking and dedicated women at Phoenix, and congratulations again to Eva and Lisa!" – CEO, Russell Hurst
The winners of the 2020 Women of Excellence in Metalforming & Fabricating award will be featured in the December issue of PMA's MetalForming magazine.
Back to News